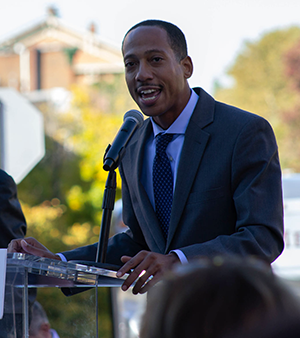 Four key issues affect the quality of life in our district: Revitalizing Neighborhoods, Affordable Housing, Effective City Services, and Supporting Our Youth.
We Deserve Safe, Clean Neighborhoods Where We Can All Work, Learn and Thrive
Raised by his father, a veteran, and his mother, a disabled veteran and homemaker. John Bullock was the first in his family to go to college. He's a professor of political science and community organizer. John is the proud father of Thomas and George.
Supporting Housing for All
Councilman Bullock has proven to be a leader on the City Council by sponsoring and passing legislation to fund affordable housing.
Effective City Services
John will continue cracking down on illegal dumping and work with us to clean up District 9. As your councilman, he is demanding improved response times for 311 complaints and rehabilitation for vacant buildings.
Speaking Up for Our Youth
As an educator, John Bullock knows young people need a strong voice and has fought to expand recreational services and programs that support their dreams and ambitions for the future.